I'm assuming you've all seen the trailer for this recent rom-"com," so you're familiar with the plot. Joy (Cameron Diaz)–recently dumped at a surprise party thrown for her fiancé (Jason Sudeikis) in front of all her friends–and Jack (Ashton Kutcher)–recently fired by his father (Treat Williams) for being a goof-off–both run off to Sin City to escape their problems. Joy brings her smarmy best friend Tipper (Lake Bell) while Jack brings his dimwitted drinking buddy Hater (Rob Coddry). After a computer error books all four in the same room, they get upgraded to the penthouse suites and receive a handful of VIP passes around town.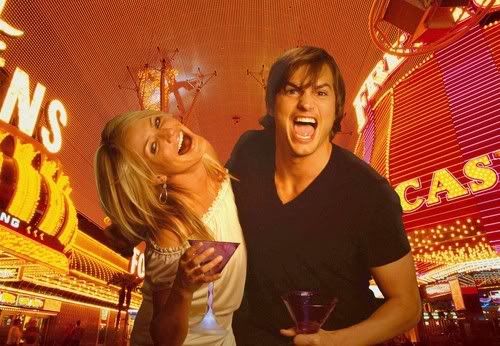 Stuck up Joy gets completely wasted with party-boy Jack, and the two end up sharing some deep conversation. They end up getting married, but in the morning realize they need to get an annulment once back in NYC. As they go their separate ways, Jack wins $3 million with one of Joy's quarters. Since they can't figure out a way to split it cordially, a divorce court judge (Dennis Miller) forces the two to spend six months trying to make their marriage work, otherwise he would tie the money up in court fees for years.
Cue the jokes about men not putting the seat down or women taking too long in the bathroom. The two go from hating each other, to trying to kill each other, to possibly falling in love. There are more twists in the end to complicate matters (of course), and in the end you're left wondering "Really?"
I can't say the film was disappointing, because I figured it would be crap, however, it was sad to see some good talent wasted in the supporting cast. Bell and Corddry are amusing in their hatred for each other; Sudeikis could have been a lot funnier given a better role; Williams was underused in what could have been a great screen dad. But the biggest mistake was giving Zach Galifianakis only two scenes. This guy (who may just be playing himself) is hilarious as the fat-Jesus friend of Jack's who instantly falls in love with Joy. It should be a criminal offense to limit this guy's funniness. In fact, I wish His Honor Dennis Miller would force director Tom Vaughan to live with Galifianakis for six months just to realize how badly he destroyed the sanctity of comedic talent.

While I'm not recommending anyone sees this movie in theaters (or even on DVD), if you do end up watching, be sure to stick around through the credits. There is one scene almost immediately after the credits start and there is another hidden at the very end. These two moments score the biggest laughs. The rest of the movie should have just stayed in Vegas…