In a world where poker is shown on ESPN approximately 200 hours a week, Sony Pictures decides to bring us a blackjack movie.
With math.
And a rocket scientist.
However, last year Warner Bros put out Lucky You which was a pretty forgettable poker film, so maybe it was good to go a different route. And, counting cards is pretty interesting; I mean, who doesn't wish they could take down a big casino–legally? As a math major and semi-nerd, I could get behind a film that features a scene dealing with the Monty Hall problem. And the rocket scientist?: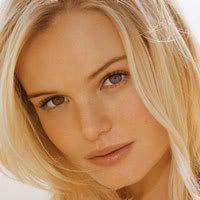 Kate Bosworth is probably the sexiest rocket scientist ever. I'm sure all the guys at MIT want to help her study some thrust, ifyouknowwhatImean.
So 21 seems to have some things going for it, some things going against it. Is it worth your time?
Probably not. In case you're not aware, this film is based on a true story. Inspired by Ben Mezrich's novel "Bringing Down the House: The Inside Story of Six MIT Students Who Took Vegas for Millions," it tells the story of five MIT students who took Vegas for a lot of money.
Jim Sturgess is Ben Campbell–a shy, uber-nerd who dreams of going to Harvard. However, he makes $8/hr at a local clothing store, so the $300,000 price tag seems a little out of his reach. There is a full scholarship he feels he deserves–4.0 GPA, 1590 SATs (nerd got one wrong?), and other outstanding scores on tests known by letters. However, the most exciting thing he can think to put in his application's essay is designing a car that can drive itself for a science fair.
He is soon approached by one of his professors, Micky Rosa, poorly portrayed by Kevin Spacey. Micky has been teaching some of his best and brightest students how to count cards, an entirely legal way of beating the house in blackjack. Ben, ever the moral hero, refuses to join this "club," determined to raise the money himself. Plus, he tells Micky how he's been working with his other nerd friends for over a year (a year!) on this self-driving car, and one never should turn his back on his friends.
Then, Bosworth's Jill asks him to join the team while batting her eyes, and what do you know, Ben joins the team! We see the students fly to Vegas every weekend and make a lot of money. They visit strip bars and rooftop raves. They're comped suites overlooking Sin City. They're excused from most of their studies, because apparently Micky can tell any other professor to just give his student money-makers an A, and these professors do. Suddenly, working on some super science fair project and hanging out at frat parties doesn't seem so fun any more.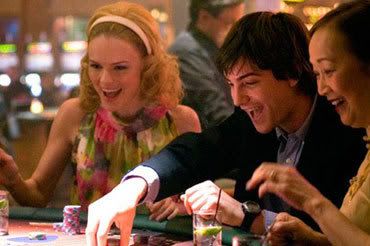 Laurence Fishburne is also here, going through the motions as Cole Williams–another expert card counter who works for the casinos and starts tracking our students when the casinos keep getting hit for tens of thousands of dollars every weekend.
I have no idea how the real life story or the book ended, however the film goes down this crazy route where everyone wears disguises that seem like leftovers from a Halloween Dollar Store. The team hits Vegas one last time (facial recognition software is making their "job" nearly impossible to continue) for one more take. Suddenly, it becomes Rosa's 11 (minus 5) as we have a Vegas heist with more twists than Chubby Checker.
I think the ultimate scene is supposed to be a shock, but I felt it was telegraphed from scene one. Overall, the writing is pretty bad, the acting is mediocre at best, the action scenes are semi-exciting, the visual effects with the cards get old fast and the PG-13 rating which promised "brief nudity" was very misleading (pasties are not nudity!). I'm sure the novel is an interesting look into card counting, however the movie wastes a fun premise by applying a Hollywood lacquer to it all.